The first round of the year was effectively my return to racing after an 18 year break and coming away with 8 top 3 finishes and 6 trophies, I felt elated that the Scooble was well and truly back in the game.
However, as the weeks and months past, the elation subsided and I found myself looking back at the weekend with a critical eye over my performance, and I really felt that I could have done so much better.
The second round of the year was soon after Brands at the Pembrey circuit in south Wales, however, I needed to do some investigation with the bike, and although I could have fitted it all in within the time between the two races, I would have been rushing around and getting all wound up and stressed.
I made a promise to myself, that this time round, I would take the racing at my own pace and take my time in enjoying it and savoring the whole experience which is something that you can quite easily miss if your running round like a amped up stress bunny.
I was well aware of the subsiding elation and my 'fix' like obsession to continually escalate my performance race on race in order to maintain that addictive high.
Intellectually, I knew that I was a 'junkie', and I knew that if I left this addiction unchecked, it would run me into the ground emotionally, physically and financially and I knew I had to keep it under control.
I was well aware that once you hit that very dark place, it affected concentration, the ability to prepare and ultimately personal performance and the only way it seems to pull oneself out of this pit, is to jump in further in the hope that you can turn it around and come out on top or spiral down even further.
When racing gets to a point when there's considerably more pain than pleasure, you really have to ask yourself whether what you are doing has any kind of benefit at all.
I therefore decided to self regulate my dosage over the year in order to maintain some kind of self control, however, it was very very hard.
Even though I missed out on going to Pembrey, my friend Allison and housemate Ginny went along to compete in the F1 sidecars. Gin got to do a practice day in an F1 outfit, whilst Allie and her driver competed over the weekend.
I spent the weekend alone, reading about all of the updates as they happened via Facebook and really wished I was there in the thick of it as Pembrey was one of my favorite race circuits. Although I am pretty sure that I am not as fast as I used to be, my best time on a production Yamaha TZR250 back in the day would have put me in the top 6 of the Formula 400 race!
However, from what I hear, the Pembrey weekend was absolute carnage with multiple red flags and a few competitors carted off with broken bones - Get well soon all!
I also opted not to do the Oulton weekend, mainly because Allison wasn't competing in the event due to the TT sidecars clashing with this meeting as well as never having ridden at this circuit (and it being such an enormous trek to the other end of the country).
All my preparation therefore, was all going towards the 21st, 22nd and 23rd of June meeting at Snetterton, which was a circuit I was quite familiar with (except for the new 300 section).
Although I love to ride my bike as fast as possible, I also like to feel that I am riding at a competitive pace, however, I knew that Snetterton was going to be a tough one based on the fact, that the circuit is extremely fast and will suit the more powerful 400's and that the rest of the competitors will be well and truly up to speed having previously done three meetings this year, whilst I had only done one.
The junkie part of me so wants to be up there, mixing it with the fast riders and being part of the elite, and I find it so hard to try and reign that part of me in and take a far more considered approach, bearing in mind, my age, my familiarity with racing and the speed of the bike. But I also know, I need a little part of that junkie to spur me on and inspire me to ride 'out of my boots' in a way that would ordinarily be way beyond my 'normal' ability.
Sheesh - even thinking about it gets me nervous...
Ok, back to business, oh yes, the preparation.
Following the last meeting, I was a little concerned about the condition of the coolant. I asked Mark Jordan for advice, and he guessed that the off colour of the coolant could be due to residual rust within the coolant pipe, however, this wasn't just a brown tint, this looked more like the morning after a bad curry!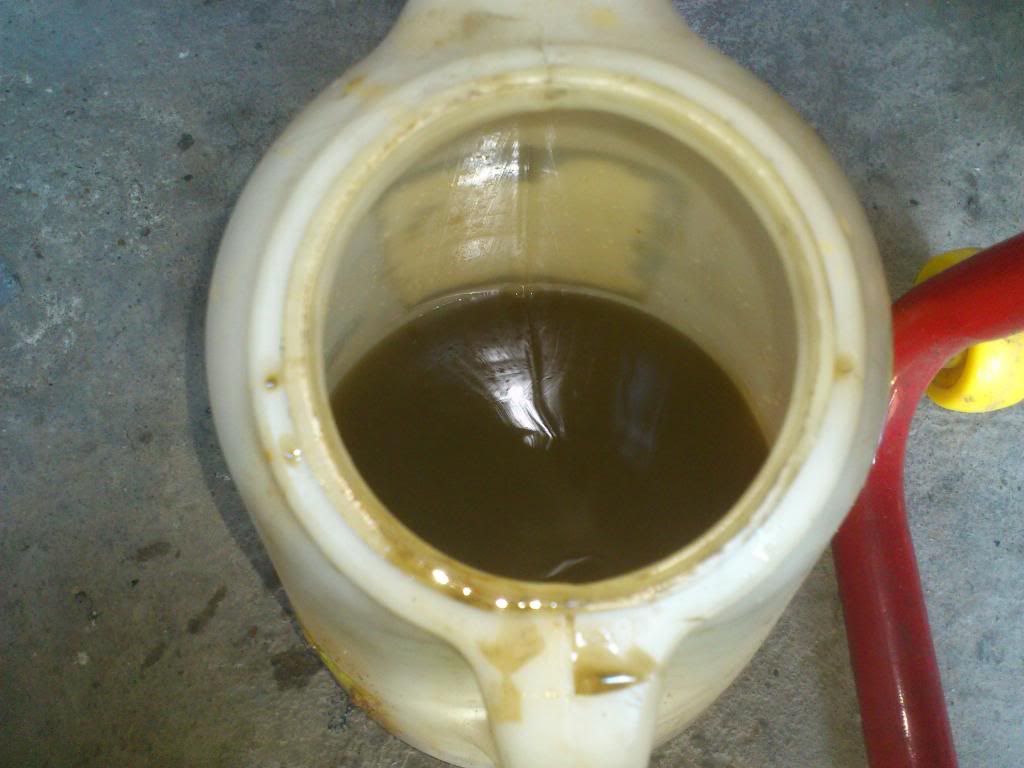 This was definitely not rust.
I pulled off the radiator and the head and had a look at the mating face between the cylinder head and the cylinders, and it appeared to me that the head gasket had failed between the powervalve shafts and the water jacket.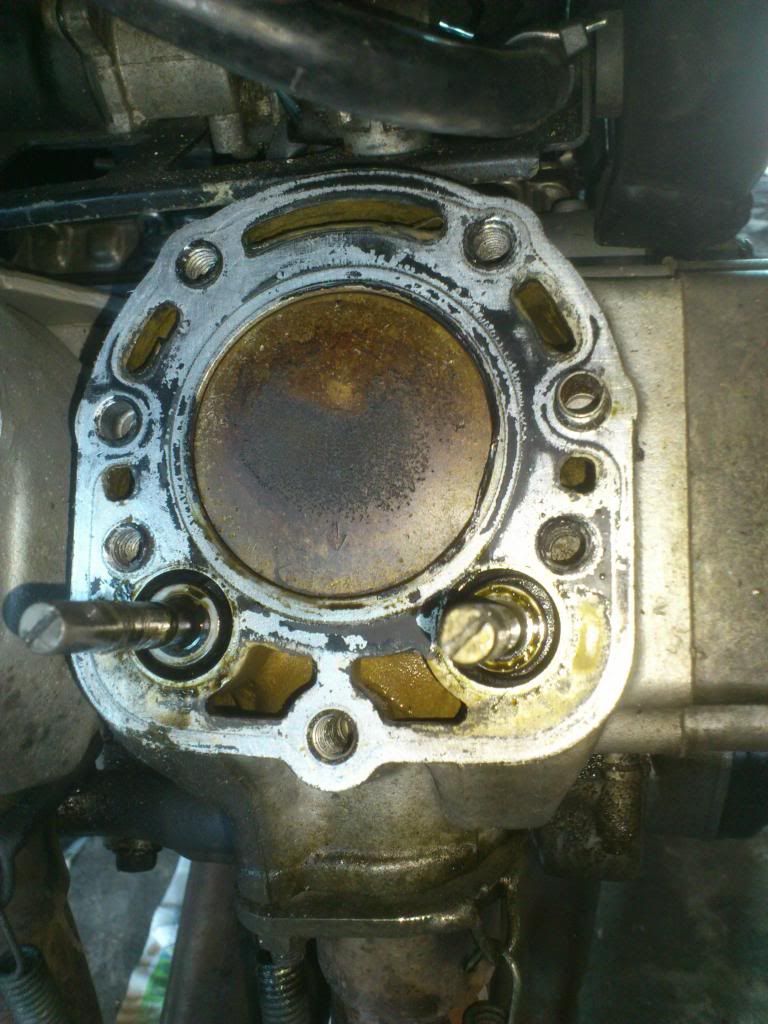 As you can see from the above picture, the hole around the vertical shaft on the right has a brown stain that extends into the parallelogram shaped port to the left of it.
Fortunately the leak didn't appear to be too significant, otherwise, it would have pressurised the coolant system and blown the coolant out of the system (or leaked past the water pump seal).
Nevertheless, it was an issue that needed to be solved. It didn't look as if any machining would need to be involved, and so it looked as if a replacement head gasket was all that was needed to cure the problem.
Mark also recommended smearing the head gasket with the special Hondabond HT black goo as a further belt and braces solution to ensure a good seal.
The top end of the engine looked quite safe, the pistons were quite dark in colour which indicated that the mixture wasn't running too lean.
I acquired a new head gasket and a small tube of HondaBond HT (expensive stuff!) and set about reassembling the top end of the engine as well as replacing some of the powervale oil seals as he engine had given itself a nice liberal coating of burnt two stroke oil and fuel mix - ewww!
I also took the opportunity to get some plates made up so that I could fit the Steel Beet footrest hangers that I stole from my NC30. The Beet footrests had seen better days, but they were significantly less chunky than the heavy industrial looking Raask ones that were already on there.
I also made the rearsets adjustable just in case I needed any more ground clearance, (however, looking at the scrapes on the side of the fairing and some of the action photographs, I think I'm probably leaning it over far as is more than is reasonably sensible!)
I also took the opportunity to build another spare engine from the big pile of bits that was sitting in my garage.
I had one set of flowed crankcases, a brand new reconditioned crank, standard clutch and gearbox and a set of Bob Farnham cylinders (with a mashed head).
The bottom end was assembled, and I took the head to Dickies to clean up the head banging damaged caused by the previous big end failure.
In the meantime, I wondered how I could make my bike faster.
I was probably a few BHP shy of the 64hp limit, so the only other option weight.
I started looking around for a light weight front wheel as I had already added some considerable weight to the front end with the addition of the chunky ZX636 forks, 310mm discs and wider ZXR400 wheel.
After a few weeks of trawling Ebay, doing research I ended up with a very nice Dymag..
Hmmmm!
Anyway, as you can see, its a Dymag wheel which was originally fitted to a CBR954.
Its not going to be a straight fit (nothing ever is), so I'll have to get some bespoke discs made up to fit, either way, it was still a considerable saving over a brand new one from, Dymag.
Unfortunately, it won't be ready for Snetterton, but I am pretty sure it'll be ready for the next Brands round in August.